I've been showing you bits and pieces of it for weeks, and now here it is in it's entirety. It's our new and improved laundry room!
Everything seems so natural the way it's configured now, like there's no other possible way to configure it. Apparently there is another way, because this is how it looked before.

The washer and dryer were "unstacked" so that I could better reach the clothes in the dryer. I'm not short (5'5"), but I had had to use a step stool in order to get everything out. A counter top was placed on top for folding clothes. The old cabinets were removed and replaced by more functional cabinetry.
The bump out couldn't be eliminated because of the pipes located behind it, so it became a picture ledge for these sweet photos and hand prints I've had since my girls were babies.
This piece of artwork was the inspiration for the laundry room decorating scheme.
These shelves give me the opportunity to display a few of my Arthur Court pieces that didn't fit anywhere else in the house, and the hyacinth baskets add texture while concealing light bulbs and Swiffer refills. The rod over the sink allows me to hang clothing to drip dry.
A pretty tray given to me as a moving gift keeps a few laundry room supplies in place.
I even love my new hardware.
Would anyone like to guess what purpose this box serves?
It's something I consider to be a laundry room essential - a sock box. This is where all of our lonely socks go to live until they find a mate.
The rug ties everything together.
In case you are curious, here are my sources for the items in the room:
Cabinets - Ikea (Adel)
Stair Tread Shelves, Hardware, Plant - Lowes
Rug - Home Emporium (also known as Southeastern Salvage or Discount Building Materials, depending on where you live)
Flower Art, Sock Box - Home Goods
That's it. It's small but functional thanks to the changes we made. I won't lie and say I love doing the laundry now, but a few small personal touches in the room make it a more pleasant experience.
If you are interested in seeing more laundry rooms, please visit
Remodelaholic's Laundry and Mudroom Linkup.
Also linking to:
http://www.beneathmyheart.net/2012/08/best-diy-projects-of-august-linky-party-2/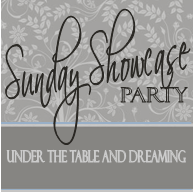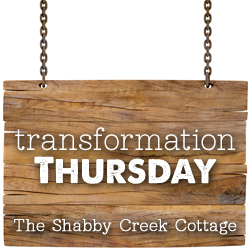 A Thoughtful Place